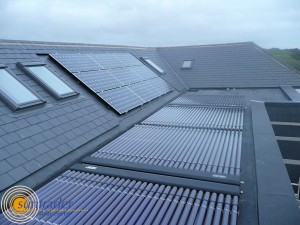 Solar Hot Water Systems with central heating support. A much larger panel area of solar collectors is required which can be linked together to achieve central heating support during the winter months.
The system works in conjunction with a puffer tank which has at least 500 to 1000 liter capacity. The weight load of the huge water storage cylinder often means it has to be situated in a basement, garage or ground floor.
A key factor for good performance (30-50% achieved by the solar system) is a well insulated house and is particularly effective when using underfloor and wall heating.